The Magnificent Ellena Shahbandarian
If problems are being solved at GHS, it's because of her!
Senior Ellena Shahbandarian has been a student at GHS since the beginning of her freshman year. She was born in Los Angeles, and has lived here her entire life. In her spare time, she likes to draw and has done so ever since she began writing. 
Ellena generally enjoys listening to current music, particularly worship music. Another fascinating fact about Ellena is that she has one younger brother and, shockingly, four dogs and two cats!
Ellena is extremely busy at Glendale High School. She is currently serving as ASB Director of Spirit, along with Alisa Gezukarian, and she is also the president of three different clubs at Glendale High School: Children's Hospital LA Club, Future Doctors of America Club, and Faith Club! 
Although she didn't found the Children's Hospital Club, Ellena is keeping it going, because she has a passion for working with and supporting children. Since she had relatives who were patients there, she soon realized that they were receiving the best care possible. Ellena appreciated how wonderful it was to be with them, and she is still doing her best to take care of them with any assistance required. 
This year Ellena is the CHLA Club president for the second time. As part of her responsibilities, she organizes the meeting agendas, and she works independently with each parent to attempt to engage and assist them as much as she can. 
Her purpose is to join forces with families and offer them the attention they require. She hopes that by the end of the year, the club will have raised enough money to support and care for these families as much as possible. The primary goal of this club is to raise money for critical requirements, such as medical care for children and families. 
Speaking of assisting the parents and children, Ellena met with the family of a patient named Kyson at multiple occasions last year. She discovered that Ky's family had just relocated to a distant state and was experiencing problems. The CHLA Club provided his family with a place to stay through AirBnB and other care that they needed. 
With the help of her club, Ellena is hoping to be able to make a significant contribution, through a toy or clothing drive for young children to fulfill their dreams over the holidays. Because money isn't quite as accessible as it once was, she wants to raise awareness among her peers, and perhaps others all around the world, about the fact that patients in hospitals require assistance with their medical and health care. And many families are eager to accept the additional support of others who are donating and raising money as well, since they do not have enough money to pay their bills. 
Ellena is excited about this club, because she and her club members can demonstrate how much they care about kids, about what's going on in their community, and about the care that they are desperately hoping to receive in the hospital. She also enjoys interacting with the kids, getting to know them well, hearing what they have to say, and, of course, seeing their enthusiasm for the work that she and the other club members are doing. 
Ellena also serves as president of the Future Doctors of America Club, a society that promotes medical careers by showcasing the various specialties within the field. By managing this organization, Ellena hopes to make it simpler for people to decide on their future careers as doctors or other pursuits in the medical field. Ellena also describes the variations among these branches and illustrates what each one accomplishes. 
FDA offers students advice on whether or not they want to become doctors in the future, as well as giving them a notion of what they want to accomplish in their future career and how they can prepare for it. This is important for Ellena, because "having this club will just help people differentiate between different types of doctors, which will help them decide exactly what path they want to do."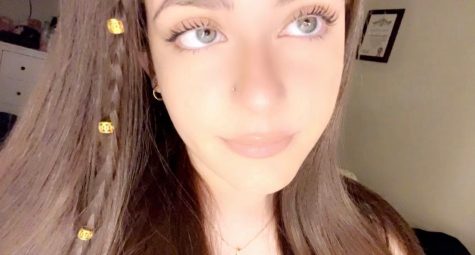 Ellena is open to welcoming new members to FDA, who may have no previous club experience or knowledge. Since she thinks that people should be made aware of what is required to become a doctor, they will be able to choose their major with confidence when the time comes. 
Ellena had dreamed of being a doctor when she was a little child, but she is now considering becoming a psychiatrist instead. She hopes to enroll in UCLA immediately after receiving her high school diploma. As an alternative, she may instead enroll in a community college with the intention of later transferring, ideally to UCLA Medical School, in order to confidently pursue a career as a pediatric psychiatrist.
Ellena also founded the Faith Club in September of this year. Being a Christian, she regularly attends church every Sunday, and the church she attends contributes food to those in need, primarily through food banks.
Deep down, Ellena believes it is her duty to provide food and shelter to those in need. "God told us to love our neighbors," she said. Because helping and supporting others is essential, and has the potential to change lives, she believes that the Faith Club will be a huge success at GHS.
Ellena invites students of all faiths at our school to band together to raise money and to make a positive difference in people's lives, which is the main purpose of Faith Club. Her goals include providing housing assistance for those who are homeless or are the victims of domestic violence, as well as offering any support that churches may require.
Even though Ellena has a Christian background, everyone of different religions or belief systems is welcome to join and congregate if they feel comfortable doing so. She also runs her own off-campus religious club, attends La Crescenta Church regularly, volunteers there, and frequently contributes food, coffee, and other items. 
Ellena was an atheist before she became a Christian, but she began to see and understand how helpful, watchful, and caring the church is as a community, and it feels like one giant family. 
Ellena is attempting to explain through all of this that Faith Club is about love and accepting of others' beliefs and religions. She wants people to realize that all Christians are capable of doing a wonderful job and changing the lives of others. By showing respect and being helpful in whatever manner possible, we might encourage others to value what people of all faiths have to offer.
If you are interested in joining any of those clubs, please follow @childrenshospitalghs, @ghsfuturedoctors, @glendalehighfaith on Instagram!