The Glendale Aquatic Center and Sports Complex Saga Comes to an End
As many Nitro students are aware, the Glendale High School Aquatic Center has been under construction for many months on our campus. 
The challenges of renovations for the Glendale High School Aquatic Center and its surroundings have finally been overcome, and we can look at these images and wonder what it must be like to see the same view, but in person.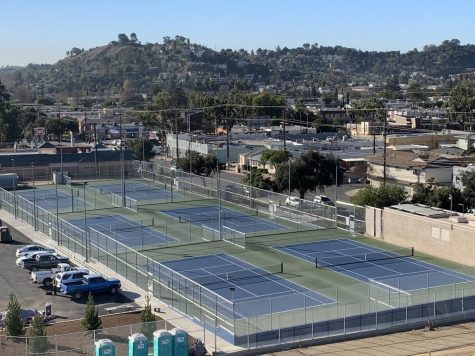 The whole project is nearing its finish, as the pools have been filled, and the dirt of the softball and baseball fields have been planted with soil and the grass seeds. Other refurbishments include the stadium lights and our tennis court's fences and lights, which were updated and repaired.
Athletes have returned to GHS to practice safely and distanced. You may think this would hinder the process, but GUSD has another idea: to work asynchronously and separately, like school is being taught now. When the teams come to practice, they are given an empty field separate from the construction, and that way CDC guidelines are maintained.
Many athletes and coaches were directly affected by the coronavirus and its shutdown, as sports were completely discontinued until the very end of our first semester. Only recently have sports returned, just barely in time for the spring season.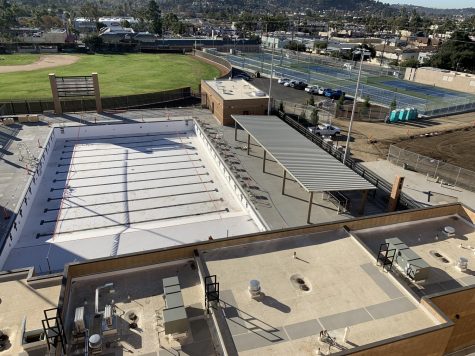 Teams have been practicing with masks and social distancing. Some sports, like lacrosse, where contact is necessary, are done with masks worn under their helmets, to prevent any infection. 
But sports like swim and water polo are a different case. After the start of construction (during which people were still in school) they had been going to other Glendale Unified School District high schools to practice, and only through sending videos of workouts. 
Our water polo teams were, through all this, able to return this school year, given time for only a few games. The team has been without a pool in Glendale since October 2019, using other pools at various GUSD high schools. Because of this, our players have had to practice at night and for fewer hours. But they were able to beat the pandemic and play a few games this season and for that, water polo coach Narek Vardanian says they are "overwhelmingly grateful." 
Coach Vardanian hopes that athletes will now be more motivated than before, with all of the renovations and the return to campus. However, some athletes have chosen to finish their school year at home, especially our seniors.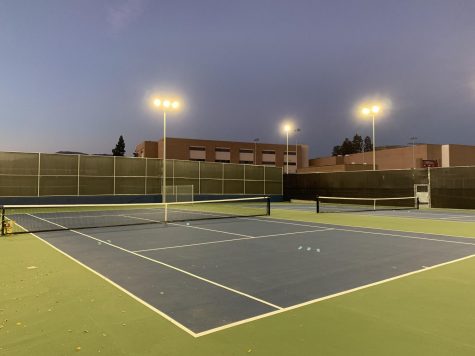 These senior Nitros have been dealt one of the worst hands in this pandemic. Their hopes of a senior season have been mostly lost, and the renovation of the pool and the surrounding complex has meant that their junior season was almost lost as well.
It seems that the GHS Aquatic Center has finished in time and tandem with the pandemic's slow downfall. When our juniors and sophomores return to campus, through hybrid or in the fall, they will see a new Glendale High School. They will witness the completion of a new pool, new tennis courts, and a new softball and baseball field.
When we come back, we may not just see the bottom halves of people's faces again, but a reformed campus of distressed optimism and happy students. Our students will, after so many trials, have the chance to see their friends together or laugh like they used to do a year ago. 
The saga of the Glendale High School Aquatic Center is coming to its end, and we can at last see it in person, fully realized, not just from the text of a school news website. And maybe we will see a new Glendale High, that has been hurt, but is coming back with vigor.