Ms. Castaneda Brings Women's Studies to GHS
All Nitros should choose Women's Studies as their next-year elective
Ms. Sydnee Castaneda has been working at Glendale High School for two years now, and she is currently teaching US History and Women's Studies. This is the first year that she is teaching a Women's Studies class, and this is also the first year that we have offered this class at GHS. 
The GHS Women's Studies class is for any student in grades 9 through 12. In this class, students learn about many big ideas. They start with the basics, including the different waves of feminism, and they focus on the backgrounds of women's history. As the semester progresses, the class learns about privilege and oppression, but the class spends the most time on feminism theory.
Ms. Castaneda teaches her students about women's sexuality, their body image, women in the media, and also about the law and how that affects women's health and reproductive rights. She hopes to end next semester by focusing on violence against women and feminist activism. 
This class is important because students learn analytical skills and how to read heavy documents. It's also important to examine past and present activism and current issues, such as social change, and how to think critically about big ideas, like race, class, ethnicity, age, gender, and sexuality. This is the first time that a high school in Glendale has been able to have a class that teaches students all about the issues that affect women, gender, and race. 
Ms. Castaneda chose to bring a Women's Studies class to GHS, because she has a background in feminist studies from her time in college, and she loved that experience. She is so excited to have the opportunity to begin this amazing class and to teach Nitro students about this important subject.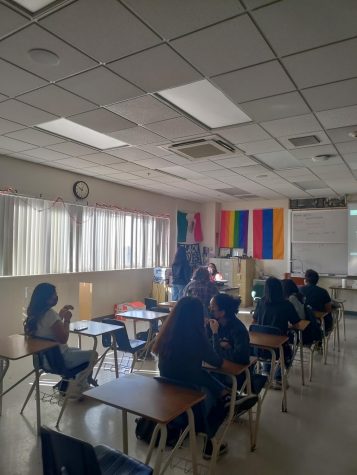 Ms. Castaneda wants everyone to take this class, because this is the one time in high school when we will have that opportunity to talk about social power, oppression, and feminism. She hopes to get twice as many students to sign up for this class next year, so that we can continue to have a Women's Studies class at our school. 
GHS students should take this class because they can learn about multiple perspectives, and learn more things that will help them in college. It is also important to learn about women's history, because it is not normally the focus of traditional social studies classes. 
Women's Studies is not only for girls, because anyone of any gender can take this class. This class matters because gender is part of everyone's life, and it is part of society. It is very important for high school students to talk about it and how it affects everybody. Being able to talk about gender in a high school setting is valuable and it is a rare opportunity. 
To learn more about this amazing class at Glendale High School, please contact Ms. Castaneda at [email protected], or ask your counselor to sign you up for Women's Studies for the 2022-23 school year!